We litterplans for autumn/winter 2020! / Wir haben Welpenpläne für Herbst/Winter 2020!



Wir planen unseren C-Wurf für Herbst/Winter 2020 mit unserer silber grizzle Hündin "Shahdad Anissa Aina". Nissa ist unsere
Erstgeborene, der erste Shahdad Saluki überhaupt. Einen Grizzle zu behalten und dann auch noch so einen
verwaschenen, nicht Fisch nicht Fleisch, wischiwaschifarbenen Hund - UNDENKBAR! Aber sie belehrte uns eines Besseren
und beschloss mit 5 Wochen, dass sie statt im Welpenabteil mit den erwachsenen Hunden bei uns im Bett schlafen wollte.
Mit allen Mitteln versuchte sie uns zu überzeugen und siegte am Ende! Gott sei Dank, denn sie ist mein Seelenhund,
meine beste Freundin und stets an meiner Seite.

***

We are planning our C-litter for autumn/Winter 2020 with our silver grizzle bitch "Shahdad Anissa Aina". Nissa
is ours firstborn, the first Shahdad Saluki ever. To keep a grizzle - no, a SILVER grizzle, a washed-out colored dog,
neither fish nor fowl, INCREDIBLE! But she taught,

wrapped us around the little finger

and decided at the age of 5 weeks that
she wanted to sleep in bed with us and the adult dogs instead of in the puppy area. She tried everything she could and
won in the end! Thank god because she is my soul dog, my best friend and always by my side.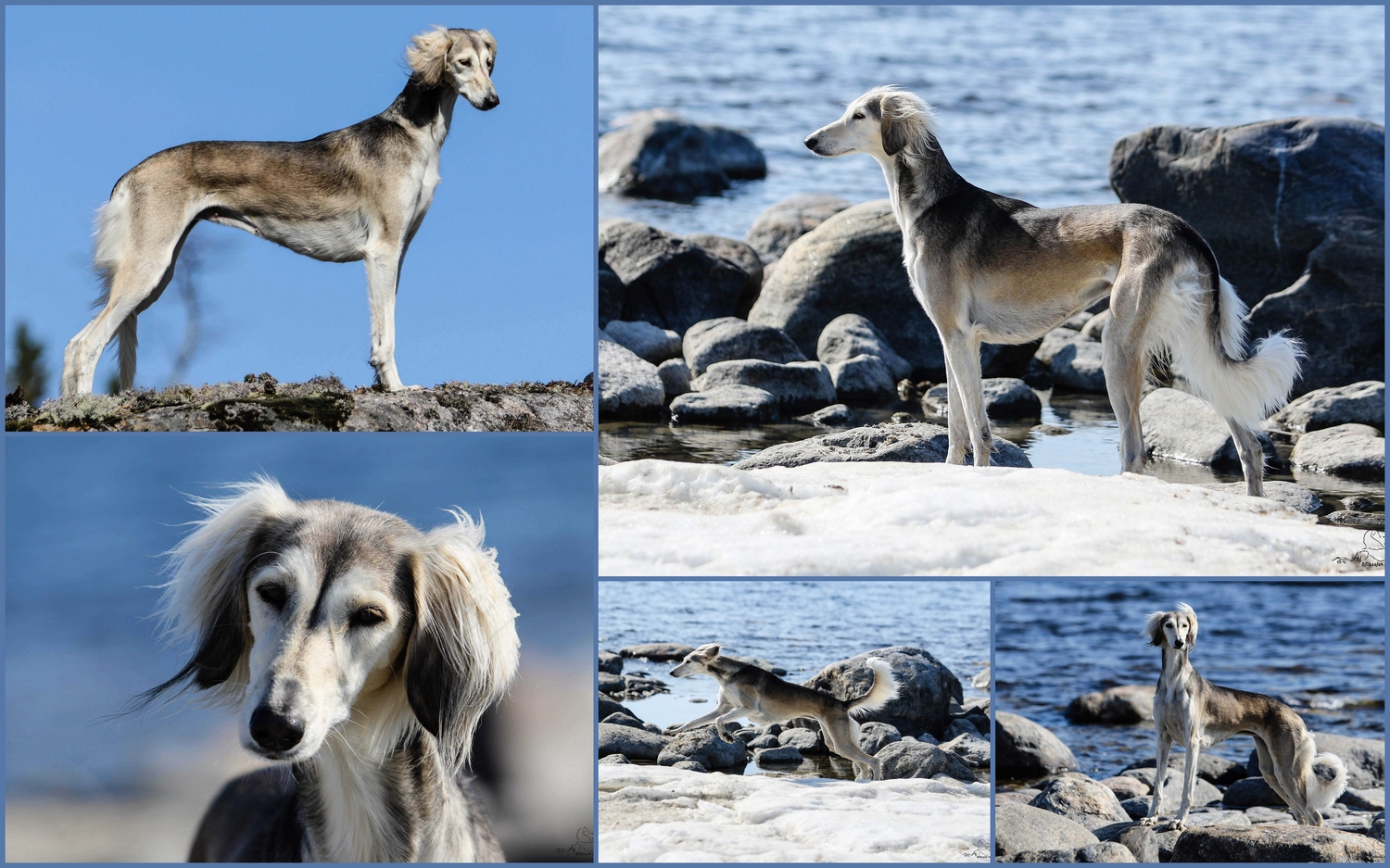 (photos and

©

by Sabine Horn!)


Sie ist ein eher ruhiger und sehr angenehmer Rassevertreter, die dennoch sehr genau weiß was sie will und in ihrer
Umsetzung doch sehr bestimmt sein kann. Sie folgt und hört sehr gut, was uns ermöglicht sie außergewöhnlich oft
und Vielerorts freilaufen zu lassen. Eventuell hift auch die Liebe zu Frolic und Co dabei ;)

***



She is a rather calm and very pleasant breed representativ

e and

still knows exactly what she wants

.


Because of her will-to-please (mommy's darling) and maybe because of Frolic and other goodies ;) she follows in an
excellent way. This allows us to

let her

run

offleash most of the time and

in many places

.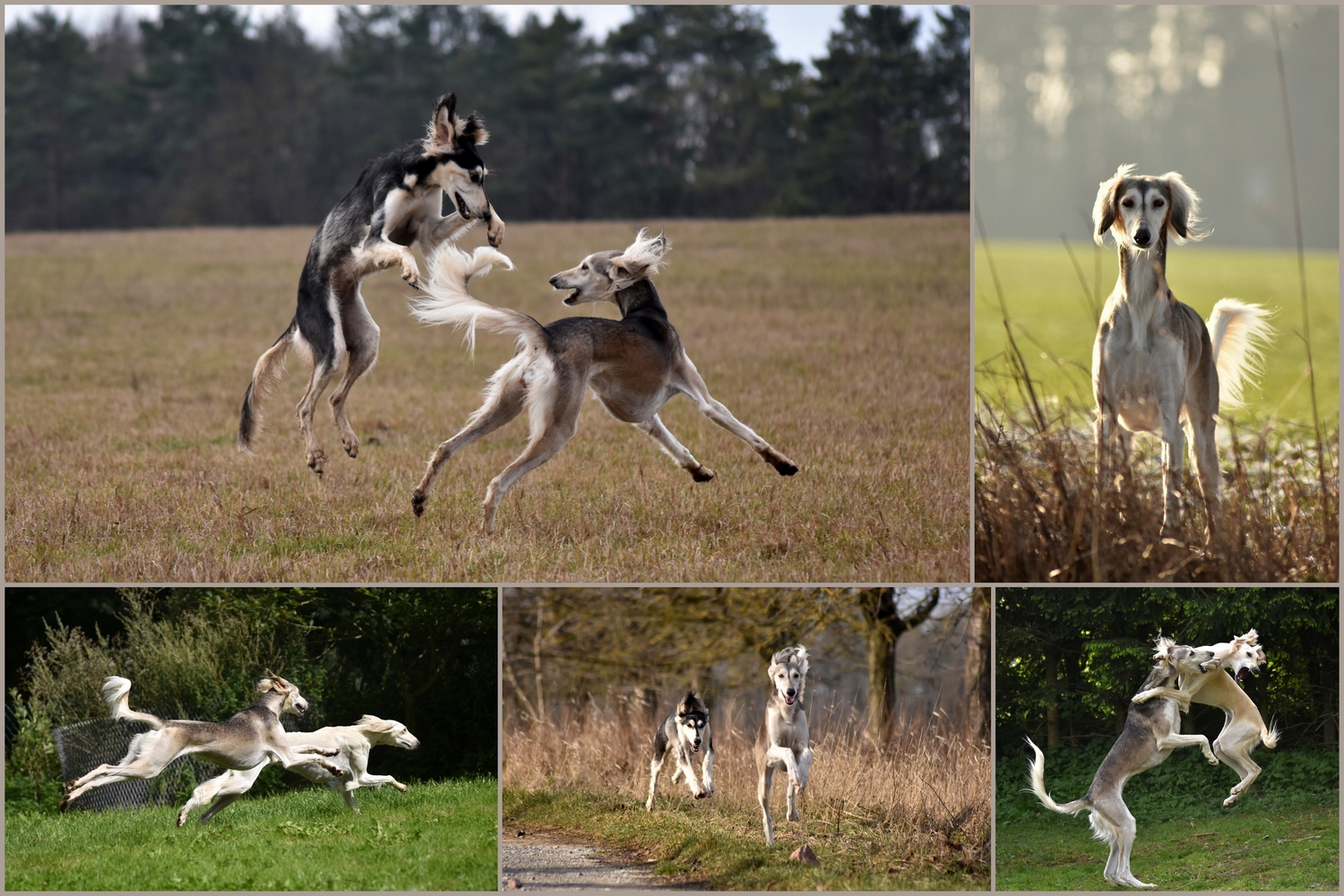 Nissa ist eine großrahmige, kräfitge Hündin, mit toller Stubstanz und einen wunderschönen, stolzen, raumausgreifenden,
kraftvollen und dennoch leichtfüßigem Gangwerk. Obwohl nicht wirklich häufig ausgestellt, blicken wir auf den ein oder
anderen Titel zurück. Der Gewinn des CAC's sowie der Platz der zweitbesten Hündin auf der jährlichen Salukijahresausstellung
unter Salukizüchterin und Richterin Cathy Smith (Catonam Salukis, Australien) war ihr bis lang größter Erfolg. Wir hoffen,
dass wir in naher Zukunft mit dem letzten benötigtem CAC auch ihre DWZRV Champion beenden können.

Der geplante Rüde wird in Kürze an dieser Stelle veröffentlicht!

***
Nissa is a big and strong bitch with

g

reat substance and a beautiful, proud

and

sound movement which is in the same time very powerful
and light-footed. Although not really often

showed she gained

some titles in past. Her greatest

success

up today was
w

inning the CAC and second best bitch at the

A

nnual Saluki

Show Germany '19 under breeder judge
Cathy Smith (Catonam Salukis, Austrialia). She needs a last CAC to finish her German Champion DWZRV and hope that we will be
able to finish it in the near future.

Her future husband will be published here shortly!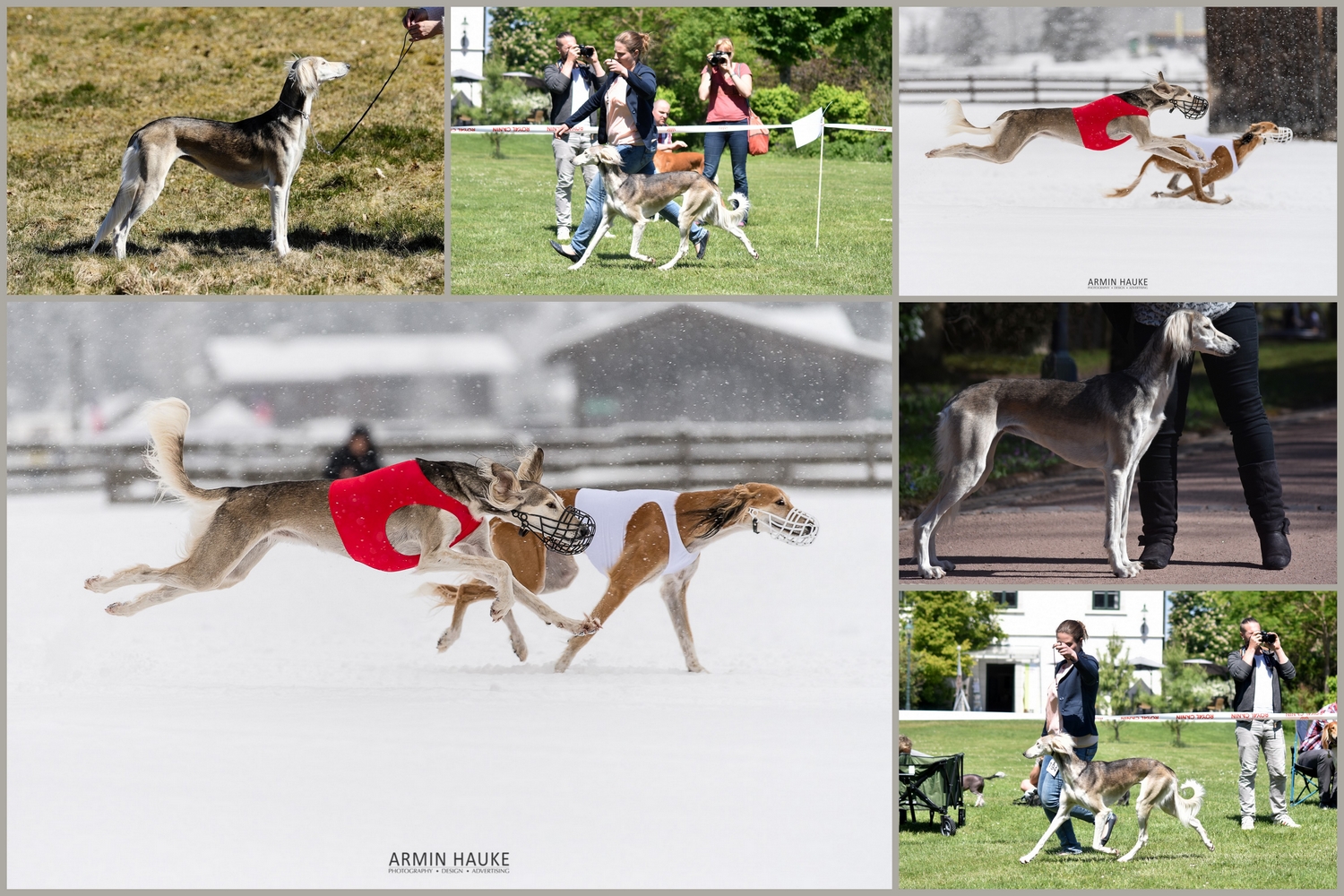 (Coursing photos and

©

by Armin Hauke!)





(SE CH Afifa Altaaf x C.I.B MCH Yadabalah Aava Adela)
*28.11.2016

German Champion VDH
German Youth Champion VDH
German Youth Champion DWZRV
Austrian Youth Champion
Bundesjugendsieger '17 AT
Bundesjugendsieger '17 DE
Coursing Lizenz


Selbstverständlich ist Anissa negativ herzgeschallt (03.06.2020 Grad 0) und ist bereits myDogDNA getestet. Den Link zu ihrem Profil
finden Sie hier: *klick* Auch ansonsten ist sie tierärztlich komplett untersucht und betreut!
Wenn Sie Interesse an einem Welpen aus dieser Verpaarung haben, freuen wir uns wenn über einen Anruf oder ein Mail.

Telefon: +49 177 699 7 233 / mail: bramante.lucia@gmail.com
Weitere Informationen, ein paar Worte und Impressionen zu unserer Welpenaufzucht findet man hier: *Klick*

***

Of course Anissa

is healthchecked without any findings and

has a

brand new,

negative

heart scan

(03.06.2020 grade 0)

.




In addition

she

has been

already

tested by myDogDNA.

The link to

her

profile

can be found here: *click*




If you are interested in a puppy out of this litter please feel free contact us by phone or mail!



phone: +49 177 699 7 233 / mail: bramante.lucia@gmail.com
Here you can find some more information, photos and impressions about the way how we raising up our puppies : *Klick*